The following is an explanation of Narita Airport and Shinjuku Stations, where it can be difficult to find your next train.
JR Narita Express from Narita Airport
Riding the N'EX (Narita Express)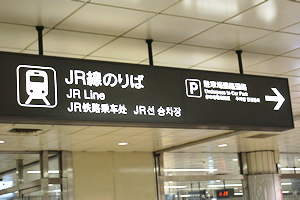 Go to the ticket gate on the first basement floor from the Arrivals Lobby on the first floor.
When you go to the basement level you will see signs for the JR and Keisei line platforms. Head towards the JR Line platform.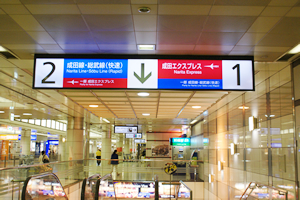 Purchase a ticket at the ticket counter. Go down to the platform after purchasing your ticket.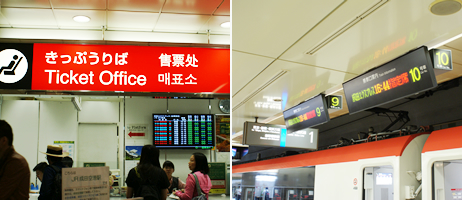 Check your destination on the electric signboard.
*Do not get on trains bound for Ofuna.
*Check the car number on your ticket.
Get off at Shinjuku Station.
Changing to JR Chuo Main Line Limited Express at Shinjuku Station
Changing trains at Shinjuku Station for the Kaiji and Azusa Expresses on the JR Chuo Line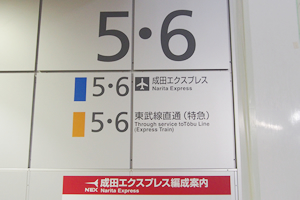 You will arrive at Narita Express platforms 5 and 6.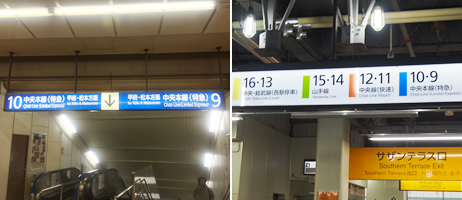 Follow the signs to Chuo Main Line Limited Express platforms 9 and 10 (marked in blue).
*Do not get mixed up with Chuo Line (Rapid) platforms 7, 8, 11 and 12 (marked in orange).
Get off at Kofu Station.
※【To Kobuchizawa Station】Get off at Kobuchizawa Station.
※【To Kawaguchiko Station】Get off at Otsuki Station. Changing to Fuji Kyuko Line.