Main content starts here.
After touring around Yamanashi, go relax in a hot spring!
Yamanashi is home to many famous hot springs!
You can enjoy a view of Mt. Fuji, the Kofu Basin, and Mt. Yatsugatake while relaxing in one.
There are also more casual spas and foot baths that you can enjoy during your travels.
But nothing beats hot spring lodgings where you can stay and enjoy a relaxing, luxurious time.
Enjoy a view of Mt. Fuji from a hot spring!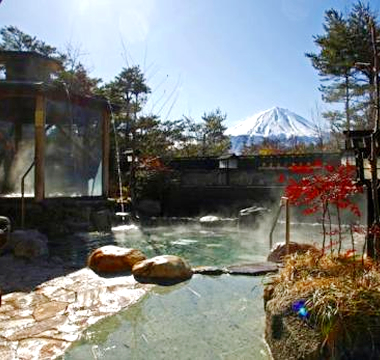 Enjoy Mt. Fuji rising in front of you –
and all to yourself!
An ultimate pleasure in Yamanashi is enjoying a dip in a hot spring while gazing out at Mt. Fuji rising right in front of you! Whether it's a beautiful snow-clad sight or a magical vision painted red by the morning sun, you can enjoy Mt. Fuji to your heart's content any time of year. There are also a variety of rest areas, restaurants, and other facilities to help you enjoy your day.
Facility information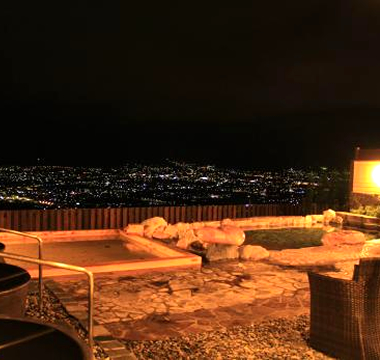 Enjoy a beautiful night view and superb
panoramic vista of the Kofu Basin!
These hot springs command a view of the Kofu Basin, whose stunning night view was selected as one of Japan's three best new night views. Enjoy a relaxing, elegant time here surrounded by Mt. Yatsugatake, Mt. Mizugaki, and other beautiful mountains that offer a wonderful panoramic vista! Gazing out at a perfect starry night sky from an outdoor hot spring is the best.
Ashiyu(Foot Bathing)
Warm both body and mind
in a casual foot bath
You don't need to take off your clothes with foot baths – you just dip your feet. One attraction to them is that since you can find them in front of train stations and on street corners, you can enjoy them casually while waiting for your train or on a stroll! They're highly recommended in cold seasons because warming your feet will help warm your entire body. Strike up a friendly conversation with your neighbor to warm both body and mind!
Lodging with stunning views of Mt. Fuji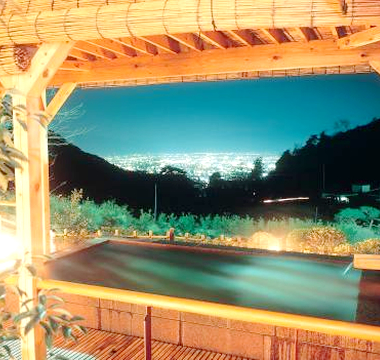 Enjoy the ever-changing view of Mt. Fuji
and other stunning views
If you want to enjoy the ephemeral beauty of Mt. Fuji, whose features change from moment to moment, we recommend hot spring lodgings! Here you can enjoy Mt. Fuji and other splendid views bathed in dawn's light, or the sun's setting rays, or other blink and you miss it moments. Relax and let time slip by.
Facility information
Lodgings offering the best Japanese experience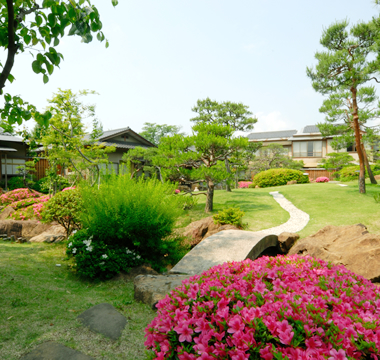 Enjoy the kinds of lavish gardens and architecture
that can only be found in Japan
Hot springs where you can spend the night while experiencing beautiful Japanese gardens and culture are the best! Come enjoy a comfortable, high quality time. After your dip in the hot spring, we recommend taking a relaxing stroll around an elegant Japanese garden.
Facility information
Lodgings with private outdoor hot springs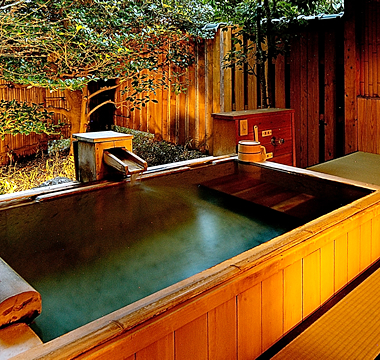 Enjoy a luxurious time with your
own private outdoor hot spring
If you want to enjoy a luxurious time, we recommend a lodging where each room has its own private outdoor hot spring. Even people who feel uncomfortable disrobing in large public baths can enjoy a hot spring while on their Japanese dream vacation. A private outdoor hot spring for your room shields you from prying eyes and lets your enjoy a relaxing dip. They let you enjoy yourself without worrying about the time.
Facility information
Hospitable hot spring lodgings replete with facilities and services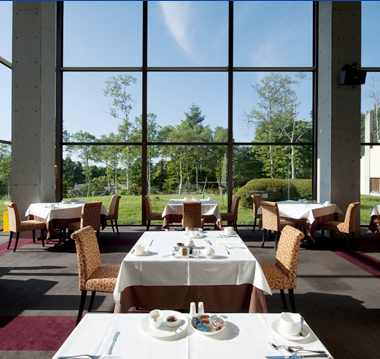 Hot spring + individual service =
An unforgettable trip
You'll find lodgings that not only offer hot springs but a taste of local cuisines, hotels that can prepare halal meals, hotels in the heart of nature, and various other facilities and services! Match your lodging to your preferences and culture for an unforgettable trip!
Facility information