Main content starts here.
First fill your heart with the nature around Mt. Fuji, and then fill your stomach with Yamanashi cuisine!
Dining is a highlight of traveling. Visitors to Yamanashi are invited to taste all that that prefecture has to offer, from local Yamanashi cuisine to well-known Japanese dishes prepared with ingredients born of Yamanashi's lush nature. First fill your heart with the beautiful nature around Mt. Fuji, and then fill your stomach with unique specialties. The experience of interacting with the locals makes the food taste even better.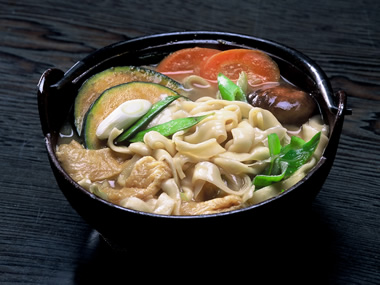 The taste of homemade cooking
that warms the stomach and the heart
Hoto is a signature Yamanashi dish of thick, flat wheat flour noodles stewed in miso soup together with plenty of vegetables like pumpkin, carrot, and mushroom. The noodles are not a variant of udon but distinct to Yamanashi, and commonly prepared at home. They are cooked until the dough melts and blends deliciously with the miso for a warming, nutritious meal.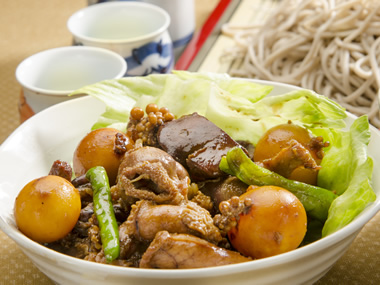 B-grade gourmet* dish loved by locals
for the rich sweet and spicy taste
Torimotsu is local dish of chicken offal simmered in a rich glaze of sugar and soy sauce. The wide variety of organs used creates depth in flavor and texture: crunchy gizzard, chewy heart, soft liver, and rubbery yolk before the egg is laid. * B-grade gourmet refers to local cuisines that are inexpensive and unpretentious, yet popular for tasting good.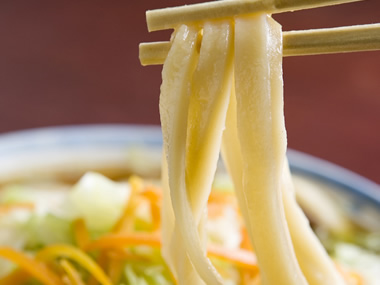 Incredibly firm noodles
and flavors that vary by restaurant
Yoshida Udon is a variant of the wheat flour noodle dish long enjoyed in Fujiyoshida City and the Gunnai area. It features firm ultra-thick noodles, a simple soup, and toppings like boiled cabbage and horsemeat. Of the more than 60 shop owners in Fujiyoshida, many serve customers in the cozy parlor of their home. Both the noodles and the toppings vary by restaurant, so it's worth tasting several versions for comparison. The affordable price adds to the dish's appeal.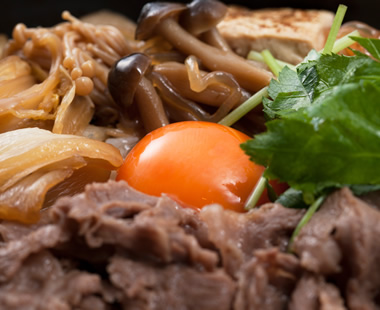 Delicious melt-in-the-mouth Koshu Wine Beef
enjoyed sukiyaki style
Sukiyaki is a Japanese dish of thin sliced beef cooked in a shallow pot, simmered together with ingredients such as scallions, garland chrysanthemum leaves, and konjac yam noodles in a sauce called warishita consisting of sugar and soy sauce, and dipped in a bowl of beaten raw egg. In Yamanashi, try it with Koshu Wine Beef from the best of Japanese Black cattle bred in the prefecture. The meat has a soft texture and rich flavor for a delicious, melt-in-the-mouth experience.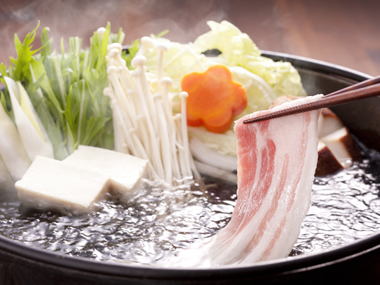 Juicy Koshu Fujizakura Pork
prepared shabu-shabu style
Shabu-shabu is another Japanese dish of ultra-thin sliced pork swished around in steaming broth and dipped in citrus-based ponzu or sesame seed sauce. It's a healthy meal served with vegetables and tofu. In Yamanashi, this is prepared with Koshu Fujizakura brand pork from pigs raised with the utmost care on specially formulated feed. The juicy, soft meat with sweet, melt-in-the-mouth fat transforms into an amazingly light meal that keeps you going for seconds.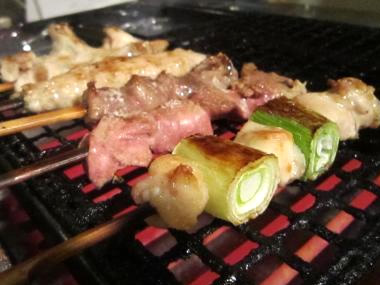 Koshu-jidori Chicken
broiled to bring out the savory taste
Yakitori is a dish of bite-size pieces of chicken on a bamboo skewer broiled with salt or a sweet and spicy sauce. It's perfect either as a side dish or as an accompaniment to liquor, and is a popular offering at fair stalls. Farmed in a free range amid the vast nature of Yamanashi, Koshu-jidori Chicken produces meat featuring a firm texture and savory taste, both of which are enhanced by the simple yakitori style of cooking.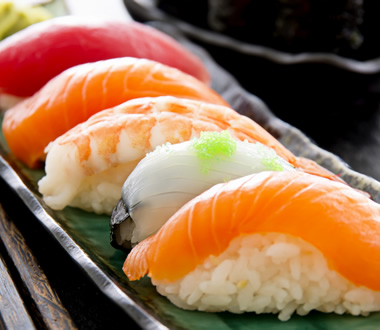 Yamanashi home to great lovers of tuna
and the largest number of sushi restaurants in Japan
Sushi is the epitome of traditional Japanese cuisine. It's loved virtually everywhere, it's a symbol of culinary art, and it's a leading representative of the Japanese food culture. Yamanashi residents are long known as lovers of tuna. The prefecture is one of Japan's largest consumers of the popular topping, and it's home to the greatest number of sushi restaurants per 100,000 population in the country. Many of these restaurants are very particular about preparation and serving, so you're guaranteed to enjoy the best sushi.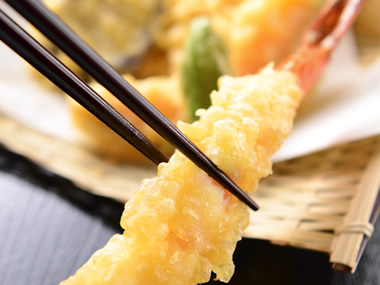 Wild vegetables, mushrooms, Japanese smelt…
Nature's bounties in a crisp coating
Tempura is a dish of seafood and vegetables dipped in a batter of wheat flour, water, and egg, and then deep-fried. The crisp coating locks in the savory taste of the ingredients. The nature of Yamanashi produces many delicious tempura ingredients. Wild vegetables like Japanese angelica tree and spikenard in spring, mushrooms in autumn, and Japanese smelt from Lake Yamanaka in winter… Try them all. They're exquisite.