Main content starts here.
Fishing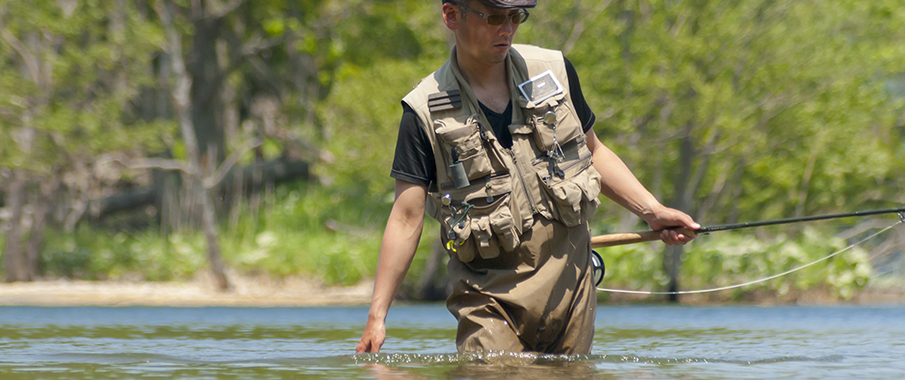 Yamanashi Prefecture is surrounded by mountains, so it has abundant water resources, including lakes and clear streams that have been selected for Japan's list of 100 famous places for clear water. Thus, it is possible to enjoy both regular and mountain stream fishing in this prefecture in all four seasons. Lake Kawaguchiko and Lake Yamanakako are well known throughout Japan for bass fishing. Furthermore, the Fuji River and Sagami River water systems are very popular as meccas for fishing in mountain streams, and clear streams in particular. At these locations, it is possible to catch Japanese trout, char, rainbow trout, and so on living in pristine headstream waters.
The clear stream of Oshino Village that has been formed by Fuji springs has excellent conditions due to the fact that its water temperature stays at a certain level throughout the year. Partly for this reason, it is one of the few places in Japan that has a habitat extremely well suited to trout species. There are 25 species of fishes living here, including Japanese trout, char, and rainbow trout. The Katsuragawa River, which runs through Oshino Village, is a very popular place—and is practically hallowed ground—for fly-fishing in Japan. Also, a visit to "Fuji Spring Water Aquarium," which is Japan's only freshwater fish aquarium and makes use of highly transparent spring water, is recommended.
How about enjoying fishing in a quiet and relaxed manner, and forgetting about the passage of time in a vast natural setting that is not far from Tokyo? Many barbeque facilities are provided where it is possible to eat the fish that have been caught, and these can be enjoyed together with the whole family.
Rivers and lakes have fewer fishing resources than the ocean so catching too many fish can quickly cause fish populations to disappear. Therefore, please fish while observing the rules and basic etiquette.