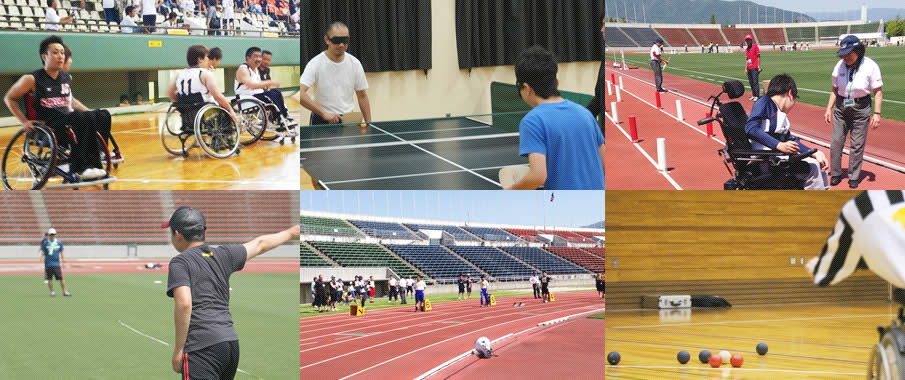 Yamanashi Prefecture promotes sports for disabled persons for the purposes of deepening understanding and awareness regarding such persons, and enabling such persons to recover functions and maintain and increase physical strength through sports, and thereby conquer their disabilities and live with strength, a positive attitude, courage, and a sense of hope.
Various sports
In addition to the various sports introduced on this website that can be enjoyed in natural settings, it is also possible to participate in a variety of sports for persons with disabilities.
Track and field
In addition to track events such as short-distance and long-distance running, it is possible to participate in adaptive sports such as wheelchair slalom races. Many people—not just persons with intellectual or physical disabilities—can participate in training sessions and competitions associated with these types of events.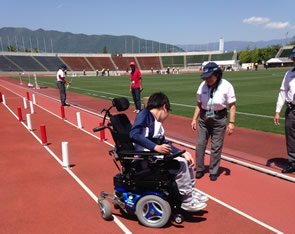 Flying disc
A flying disc or "Frisbee" is used in this sport. There are two types of a competitions: "distance" in which players aim for the longest distance with three throws each, and "accuracy" in which players aim to get the flying disc through a ring as many times as possible with 10 throws each. This is a sport that a wide range of people can participate in regardless of the degree of their disability.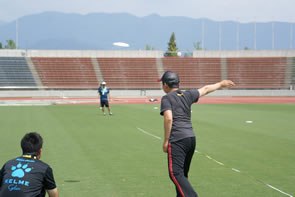 Sound table tennis
This is table tennis in which table tennis balls containing metal are used, and the players roll the balls back and forth relying on their sound. This is different from general table tennis in that the balls are hit so that they roll underneath a net. Eye masks are worn during play so anyone can participate. This sport requires a high level of concentration, and extended rallies can be enjoyed once a certain level has been reached.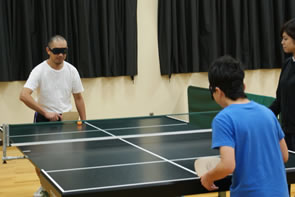 Wheelchair basketball
This is basketball played in a wheelchair. There are variations related to the dribbling method and whether traveling is allowed, but the nature of the sport is roughly the same in terms of the size of the court and height of the hoop, etc. This is a somewhat intense sport that requires speed and agility.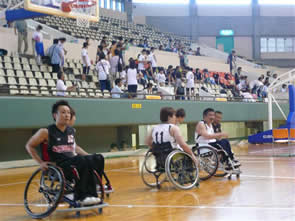 Boccia
This is a sport that was developed in Europe for persons with severe cerebral palsy and persons with severe limb movement disorders. It is an official event at the Paralympics. Competition involves throwing, rolling, and hitting balls to get them close to a target.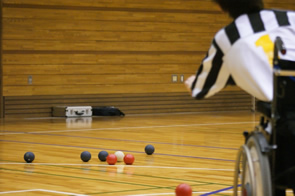 Information on competitions
In Yamanashi Prefecture, the "Yamanashi Prefecture Sports Competition for Disabled Persons" is held each spring. This event concurrently serves as a qualification for advancement to sports competitions for disabled persons at the national level. For details, please visit the Yamanashi Prefecture Association of Sports for Disabled Persons homepage.
In addition, marathons are held in which persons with disabilities are able to participate. For details, please contact the relevant event organizer.
Introduction of various organizations
These are links for various sports teams and associations active in Yamanashi Prefecture. The teams are always looking for potential new members to compete together with them.
For information on other organizations, please contact the Yamanashi Prefecture Association of Sports for Disabled Persons.
Facilities and equipment
The Yamanashi Prefecture Association of Sports for Disabled Persons loans out sports equipment for disabled persons. If you are interested in such equipment, please do not hesitate to contact the association.